Debt securities statistics, February 2017:
Interest-bearing debt securities continue to increase
Statistical news from Statistics Sweden 2017-03-16 9.30
The value of outstanding borrowing in debt securities was SEK 7 559 billion at the end of February. This is an increase of SEK 139 billion compared with the previous month. SEK 80 billion of this increase is due to increased borrowing in money market instruments, for the most part denominated in US dollars.
The value of the outstanding bond stock rose by SEK 59 billion in February and amounted to SEK 6 454 billion at the end of the month. Net issue in Swedish kronor was measured at SEK 38 billion, and SEK 37 billion in foreign currency bonds reached maturity. However, changes in exchange rates contributed noticeably to the increase in long-term borrowing, after the US dollar and Euro exchange rates were strengthened against the Swedish krona during the month. Housing bonds contributed SEK 26 billion, while other monetary financial institutions (MFIs) was the only sector that decreased borrowing in bonds, by SEK 2 billion.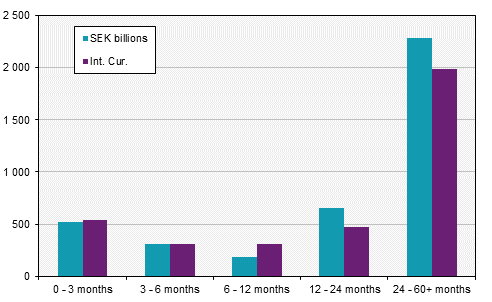 Next publishing will be
Feel free to use the facts from this statistical news but remember to state Source: Statistics Sweden.