Debt securities statistics, January 2017
Increased borrowing through bonds and money market instruments
Statistical news from Statistics Sweden 2017-02-16 9.30
The outstanding balance value in debt securities amounted to SEK 7 424 billion at the end of January, which was an increase of SEK 164 billion compared with the previous month. The increased borrowing is relatively evenly distributed between money market instruments and bonds and 66 percent is comprised of debt securities denominated in Swedish kronor.
The value of the outstanding bond stock rose by 1.2 percent to SEK 6 400 billion, while the value of the money market stock increased by 9.4 percent to SEK 1 024 billion.
Money market instruments increased by SEK 88 billion in January, of which net issues in foreign currency amounted to SEK 68 billion. The increase is mainly due to increased borrowing in US dollars amounting to SEK 35 billion. This represents 40 percent of borrowing in debt securities for short-term debt securities. The debt stock for bonds rose by SEK 76 billion, of which net issue amounted to SEK 75 billion and SEK 69 billion in Swedish kronor and foreign currency respectively.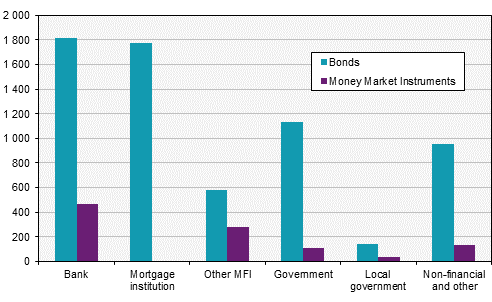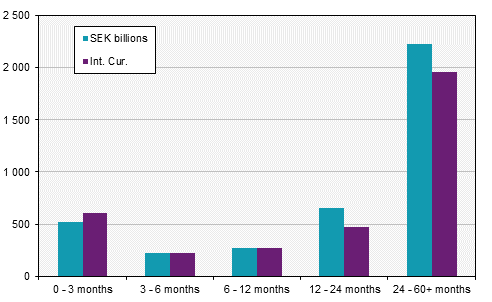 Next publishing will be
Feel free to use the facts from this statistical news but remember to state Source: Statistics Sweden.