Securities statistics, March 2017:
Borrowing in debt securities continues to rise
Statistical news from Statistics Sweden 2017-04-20 9.30
The total value of Swedish outstanding debt securities increased by SEK 29 billion in March, amounting to SEK 7 613 billion at the end of the month. The increase was mainly due to securities denominated in Swedish kronor and British pounds.
At the end of March, long-term debt securities amounted to SEK 6 519 billion, which is an increase of SEK 42 billion compared with the previous month. Securities denominated in Swedish kronor, US dollars and British pounds are the main reason for the increase in long-term securities. Borrowing in long-term securities accounted for 86 percent of total interest-bearing debt securities.
The debt stock for short-term securities denominated in Swedish kronor and British pounds increased in March by a value of SEK 21 billion and SEK 7 billion respectively. However, the total outstanding debt for short-term securities decreased by SEK 13 billion and amounted to SEK 1 094 billion.
Broken down by sector, other monetary financial institutions and non-financial enterprises have increased their borrowing the most by SEK 42 billion and SEK 48 billion respectively.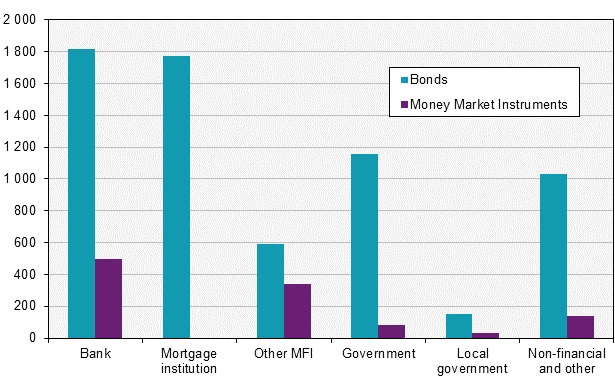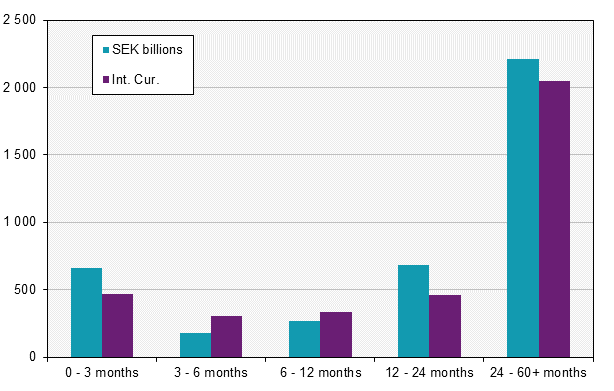 Next publishing will be
Feel free to use the facts from this statistical news but remember to state Source: Statistics Sweden.