Educational attainment of the population in 2016:
The Stockholm area has the highest level of education
Statistical news from Statistics Sweden 2017-06-21 9.30
Roughly one fourth of the population is highly educated. These people often live in greater urban areas and county seats. The majority of municipalities with the highest level of educational attainment are in Stockholm County.
In eight of the municipalities in Stockholm County, one third or more of the population has attained at least three years of post-secondary education. In the municipalities of Lund, Lomma, Uppsala, Umeå, Linköping, Mölndal, Knivsta and Gothenburg, at least one third of the population is highly educated.
The high level of education in the greater Stockholm area can largely be explained by a labour market with many workplaces in industries that typically have a large share of highly educated persons, such as the financial and insurance sectors, education, public sector administration and defence. Higher education is offered on a large scale in the area and the population is relatively young, with a higher level of formal education than older persons.
The municipalities with the greatest share and the greatest number of inhabitants with at least a three-year post-secondary education in 2016. Aged 25–64
Municipality
Share of
inhabitants
with at least
a three year
post-secondary
education
Municipality
Number of
inhabitants
with at least
a three year
post-secondary
education

Danderyd

57%

Stockholm

218 700

Lund

53%

Göteborg

107 600

Lomma

49%

Malmö

58 600

Lidingö

45%

Uppsala

45 400

Solna

44%

Lund

31 300

Täby

43%

Linköping

28 900

Uppsala

41%

Umeå

24 400

Stockholm

40%

Örebro

20 900

Umeå

39%

Västerås

20 500

Sollentuna

39%

Solna

20 400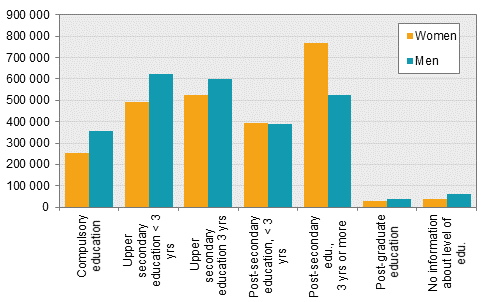 Young women have the highest educational level
Women have a higher educational level than men. More women than men have attained a post-secondary education and fewer of them have only attained a compulsory school education. However, more men than women have attained a postgraduate education. Among those with a postgraduate education aged 25–64, the share of women is 42 percent.
Of the population aged 25–34, more than half have attained a post-secondary education. The share of highly educated women is 36 percent, while barely a fourth of the men in the same age group are highly educated. This difference is because more women continue with higher education. Currently about 50 percent more women than men are registered at Swedish universities and institutes of higher education.
Publication
Feel free to use the facts from this statistical news but remember to state Source: Statistics Sweden.