Domestic material consumption per category of material, Sweden 2000–2016
Million tonnes per year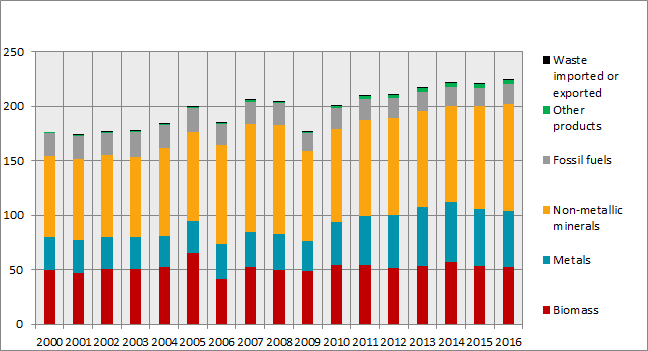 Waste according to EW-MFA definitions. Wastes from the wood industry are included in the Biomass category.
Preliminary data for non-metallic minerals in 2016.
Comments
Domestic material consumption (DMC) is defined as the total amount of material that is directly used in the economy. The indicator is composed of the domestic extraction of materials that flow from the environment within the Swedish borders into the Swedish society, plus the imports minus the exports of materials crossing the Swedish borders.
DMC can be divided into the following material categories:
- Biomass
- Metals
- Non-metallic minerals
- Fossil fuels
- Other products (net imports of finished products composed of a mix of the above mentioned material categories)
- Waste imported or exported (net imports of waste)
More about the results
Source file
Download as Excel
Source
SCB
Last updated
2017-12-12