Land use in Sweden 2010:
Land ownership dominated by men
Statistical news from Statistics Sweden 2013-12-17 9.30
Nearly half of all land in Sweden is privately owned. Only one in four private persons who owned land in 2010 were women. The average land owner was a married man age 56 living in Stockholm County. He earned slightly more than SEK 240 000 per year after taxes and owned an average of 84 000 square metres of land.
Another large category of landowners was the business sector, which owned slightly more than 30 percent of the land. Landholdings of the business sector were mainly tied to the forest industry. Public institutions owned about 15 percent, among which the central government was the largest landowner.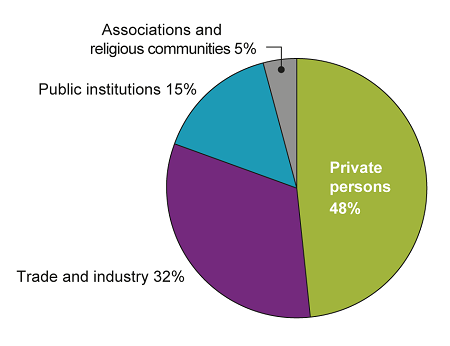 Increased land ownership for private persons
The distribution of land among the ownership categories has varied over time. The largest change between 2001 and 2010 is that ownership of private persons has increased from 43 to 48 percent. The share of ownership for the business sector was also higher in 2010 compared to 2001. At the same time public ownership has dropped from 21 to 15 percent.
1 million hectares of arable land have disappeared since 1950
The overall global land use trend has for a long time been a reduction of forest land and an increased area of agricultural land. Other land use has also increased, such as land for growing cities and infrastructure. The area of forests in Sweden is only increasing marginally, while agricultural land is diminishing sharply. Between the years 1951 and 2010, arable land in Sweden has decreased by more than 1 million hectares. The decrease in area is thus larger than the total area of arable land that existed in all of Norway in 2010.
Localities continue to grow on agricultural land
Between the years 2005 and 2010, the area of localities (urban areas) in Sweden increased by roughly 9 700 hectares, of which about 2 250 hectares consisted of arable land. The last time the corresponding amount of arable land was taken for expansion of localities was during the 5-year period 1990-95. During the period 1960-2010, a total of roughly 67 500 hectares of arable land has been swallowed by growing localities.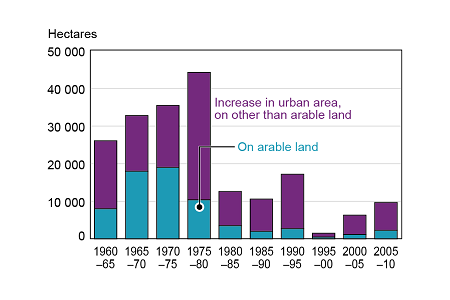 Publication
More information on land ownership and land use is available in the publication Land use in Sweden. The publication is partly based on the statistics published by Statistics Sweden on 2013-11-26.
Statistical Database
More information is available in the Statistical Database
Feel free to use the facts from this statistical news but remember to state Source: Statistics Sweden.