Employed persons in localities:
Most employed persons within health and social care sector
Statistical news from Statistics Sweden 2013-11-20 9.30
The majority, or 86 percent of Sweden's employed persons work in one of the country's nearly 2 000 localities. Stockholm County has the most employed persons in an urban area, at 91 percent. Gotland County has the lowest share at 73 percent.
Most employed persons in localities are in the health and social care sector, followed by manufacturing, mining and quarrying, as well as in trade. However, variations are considerable among localities. In the three largest localities Stockholm, Gothenburg and Malmö, the sectors for trade and health and social care are large. Gothenburg has a large share employed in the manufacturing industry.
Large localities have significant diversity of industry
The diversity of industry of an urban area shows the scope of industries at the workplaces of the area. The five largest localities population-wise all have a considerable diversity of industry. The country has a large diversity of industry and has a target value of 100 in the graph below. Eight localities have a larger diversity of industry than the entire country.
Those localities that have the lowest diversity of industry all have a small population. The largest such locality has a population of slightly more than 100 inhabitants. These types of localities are dominated by individual workplaces, often in the manufacturing, mining and quarrying industry.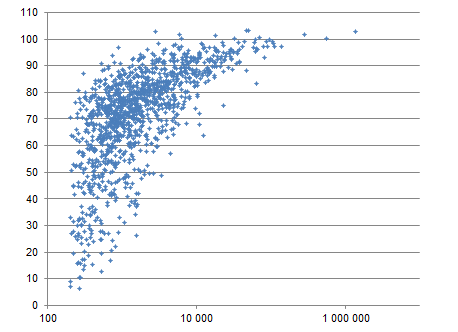 High values on the y-axis mean high diversity of industry. Low values indicate small variations of industry in localities. The x-axis shows the population in localities in a logarithmic scale.
Employed persons outside localities
About one third of those outside localities work in larger local units, i.e. concentrations of workplaces with at least 50 employees. Almost two thirds work at smaller workplaces outside localities or workplace areas.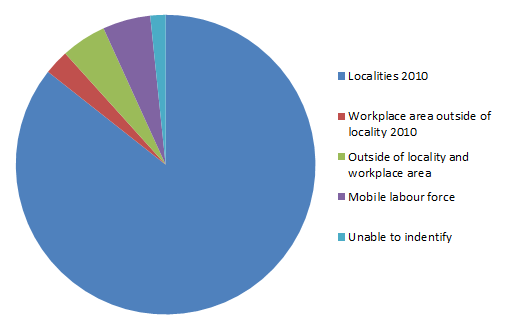 Definitions and explanations
A locality is a concentration of developed land where the number of inhabitants is at least 200 and the distance between the buildings is at most 200 metres. The number of holiday homes in localities is at most 50 percent of all buildings. No consideration is taken for boundaries for municipalities or counties.
Workplace areas outside of localities consist of one or more workplaces, where the distance between the buildings does not exceed 300 metres and the total number of employees is at least 50.
Information from RAMS (Register-based labour market statistics) has been used to calculate employment in localities. The register is primarily based on the statement of earnings from employers and tax declarations from self-employed persons.
Publication
Feel free to use the facts from this statistical news but remember to state Source: Statistics Sweden.