Localities 2020:
Detached one- or two-dwelling houses most common in localities
Statistical news from Statistics Sweden 2022-03-31 8.00
The most common type of dwelling in localities is detached one- or two-dwelling houses. They make up 72 percent of the total number of dwellings in localities. At the same time, more than half of the population of localities reside in multi-dwelling buildings.
Detached one- or two-dwelling houses make up 72 percent of the total number of dwellings in localities. Other types of small buildings containing dwellings such as terraced houses and row houses make up almost 19 percent of dwellings. Multi-dwelling houses make up 9 percent of the total number of dwellings in localities.
Residential buildings in localities, according to number by type of dwelling. Percentage, 31/12/2020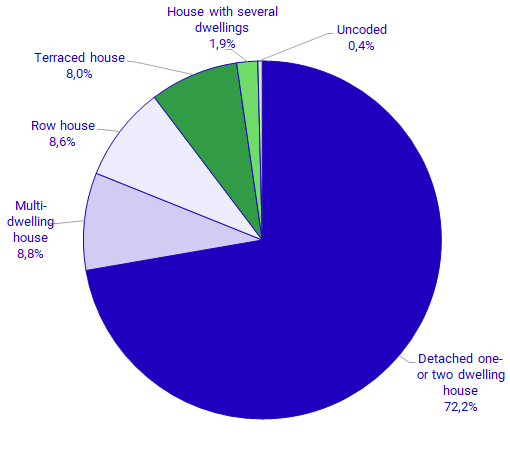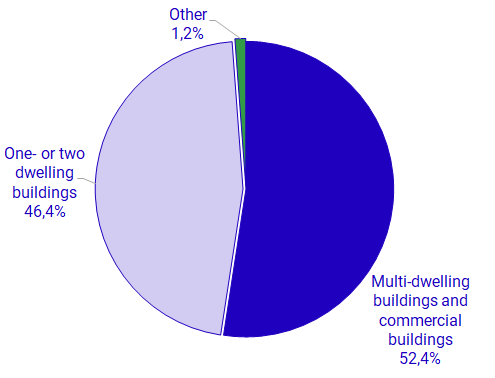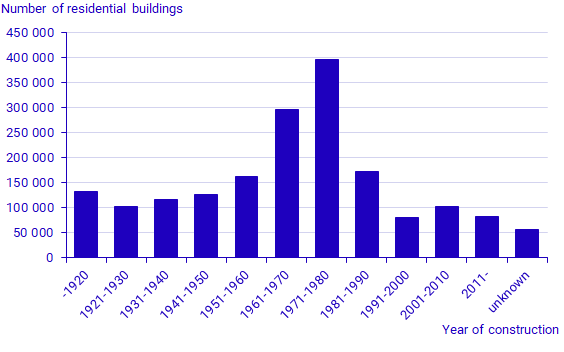 Definitions and explanations
In Statistics Sweden's statistics, a locality is a settlement with at least 200 registered inhabitants that is densely built. Statistics Sweden defines the localities geographically and then calculates statistics for them. The density of the settlement is measured using digital maps from Lantmäteriet, the Swedish Land Registration Authority, with information on buildings, properties, roads and land. The distance between the buildings of the localities varies depending on several factors, including the number of registered people and employees in the various parts of the locality. The furthest permitted distance is 500 metres. Information on population and employees is retrieved from Statistics Sweden's registers, which are combined with address data.
In the statistics, the term "statistical locality" is used to indicate that the statistics are based on a classification of localities, for which register data and statistics form the basis. Statistics Sweden's localities can therefore differ from how other parts of society define and delimit localities in Sweden.
Classification of buildings and dwellings follows coding according to purpose in the Real Property Register, building part (Lantmäteriet).
- detached one- or two dwelling house: House containing one or two dwellings that is not connected to another house.
- Row house: Two or more one-dwelling houses, connected by a garage, storeroom or similar. Each dwelling is on its own property. Semi-detached houses are also classified as linked houses.
- Terraced house: At least three one-dwelling houses in a row. The housing components are directly connected to each other and each dwelling is on its own property.
- House with several dwellings: Small buildings with several dwellings on the same property.
- Multi-dwelling houses: Buildings that contain at least three dwellings. Can contain offices, stores, hotels, restaurants and so on. At least 50 percent must consist of dwellings.
Maps and geodata
Geodata for localities Open data for localities
Statistics Sweden's map search tool for regional divisions: SCB Regina Web Map
Publication
Feel free to use the facts from this statistical news but remember to state Source: Statistics Sweden.