Peat 2017 - Production, use and environmental impact:
The harvest of fuel peat decreased in 2017
Statistical news from Statistics Sweden 2018-06-12 9.30
The harvest of fuel peat decreased in 2017. The decrease was 23 percent compared with 2016. The main reason for the reduction was the weather in the summer of 2017, which was less favourable for peat production than in the summer of 2016. Hot and dry summers are beneficial for the peat harvest.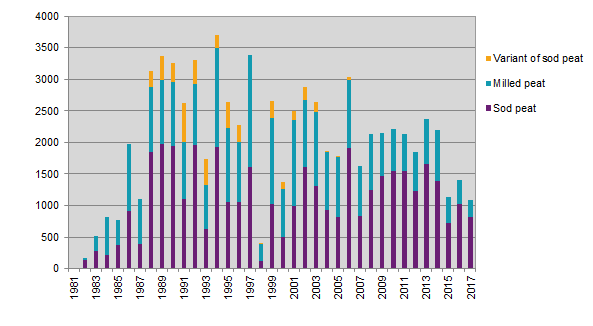 Increased trade in peat
Imports of peat increased by 34 percent in 2017. Imports were mostly fuel peat. Exports increased by 14 percent, mostly comprising horticultural peat. Imports are foremost from Belarus and exports are mostly to the Netherlands.
Sweden is a world leader within peat harvesting
In 2015, Sweden was the fourth largest peat harvesting nation in the world. Most of the world's largest peat harvesting nations are located in Europe. Finland tops the list at 27 percent of the world harvest of peat while Sweden accounts for 8 percent of the world harvest. Ireland is the second largest nation and Germany the third largest nation.
Statistical Database
More information is available in the Statistical Database
Feel free to use the facts from this statistical news but remember to state Source: Statistics Sweden.