Savings Barometer, 2nd quarter 2019
High levels of household savings in the second quarter
Statistical news from Statistics Sweden 2019-08-29 9.30
The level of households' financial savings was high in the second quarter of 2019 and amounted to SEK 83 billion. The level of financial savings is generally higher in this quarter, as most share dividends and tax refunds are distributed in the second quarter. A large part of savings remained in households' bank accounts, which increased by SEK 60 billion during the quarter.
New savings in financial assets amounted to SEK 145 billion, while debts increased by SEK 62 billion in the quarter, which resulted in SEK 83 billion in financial savings. Households primarily saved in bank accounts and invested in funds, tenant-owned apartments, and pensions. Households sold shares and premium bonds, while loans increased, although at a slower rate than previously.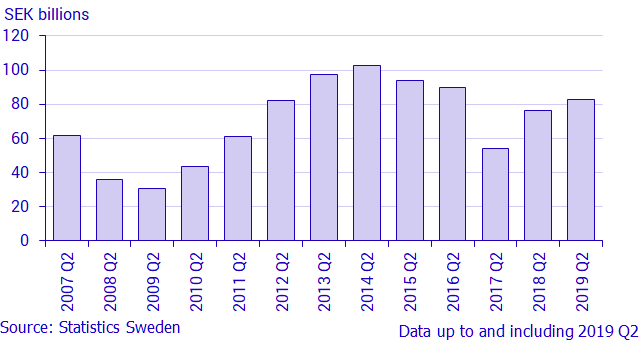 Net deposits, that is, deposits minus withdrawals, in bank accounts continued to increase in the second quarter of 2019. In the most recent five-year period, households' net deposits in bank accounts amounted to nearly SEK 600 billion. Bank deposits amounted to SEK 1 953 billion in total at the end of the quarter and accounted for just over one tenth of households' financial assets.
Households' net borrowing, that is, new loans minus amortisation, amounted to SEK 60 billion and consisted mainly of loans in bank and housing credit institutions. The annual growth rate on loans levelled out and amounted to 4.8 percent, which was 0.1 percentage point less than in the first quarter of 2019.
Lower investment in new tenant-owned apartments continues
Net purchases of apartments with changing rights of tenancy to tenant-owned apartments and newly produced tenant-owned apartments amounted to SEK 7 billion in the second quarter of 2019. Net purchases of new tenant-owned apartments have declined since the fourth quarter of 2017. Households' ownership of tenant-owned apartments is a financial asset and is included in the Savings Barometer. One- or two-dwelling buildings with ownership rights are not included, since they constitute tangible assets.
Households made net sales of shares and net purchases of funds
Households net sold listed shares for SEK 5 billion in the second quarter of 2019. This was the largest net sales since the second quarter of 2015.
At the same time, households purchased funds, mainly Other funds. Other funds amounting to SEK 8 billion were net purchased, and consists of hedge funds, mixed funds, and funds that do not exclusively invest in shares or debt securities. In recent years, Other funds have become increasingly popular, and in five years, their share of households' total holdings in Swedish-registered funds has increased from 39 percent to 43 percent. Although the fund category Other funds is growing, Equity funds remains the largest fund category.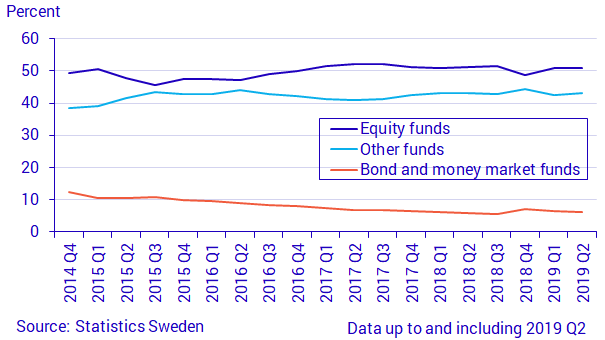 Cash savings were positive
Financial individual savings excluding accruals amounted to SEK 20 billion in the second quarter of 2019. These savings include more liquid financial transactions that households actively decide on. The fact that these savings are lower than total financial savings in a single quarter is mainly because occupational and premium pension savings are not included in financial savings. These savings are normally positive in the second quarter, while the first, third and fourth quarters have not shown positive financial savings in five years.
Households' financial assets amounted to SEK 14 638 billion at the end of the second quarter 2019. At the same time, households' liabilities amounted to SEK 4 485 billion, of which the major share consisted of loans from banks and housing credit institutions. The net financial wealth of households, measured as financial assets minus debts, amounted to SEK 10 153 billion.
Definitions and explanations
Financial savings is calculated as the difference between transactions in financial assets and transactions in liabilities.
No major revisions or methodology changes are published in the Savings Barometer. These are instead published in the Financial Accounts, where there is more time for calculations and reconciliation with other sectors. However, minor revisions can occur due to, for instance, revised primary statistics.
In connection with the publication of the Savings Barometer for the second quarter of 2019, the entire time series will be updated from the first quarter 2018 onwards with the revisions introduced in the Financial Accounts' publication on 19 June.
More detailed descriptions of major revisions are described in the Financial Accounts:
Next publishing will be
Feel free to use the facts from this statistical news but remember to state Source: Statistics Sweden.