Completed new construction, Conversion and demolition of multi-dwelling buildings 2017 - definitive figures:
51 500 new dwellings completed in 2017
Statistical news from Statistics Sweden 2018-05-07 9.30
Last year 48 227 newly built dwellings in total were completed. This is the highest number of dwellings completed in new construction since 1992, when 57 319 were completed.
The completed dwellings comprised 12 444 dwellings in one-or two-dwelling buildings and 35 783 dwellings in multi-dwelling buildings. In addition, 3 368 dwellings were completed through conversion of existing multi-dwelling buildings. As a result, there was an increase of 51 595 dwellings in total in 2017.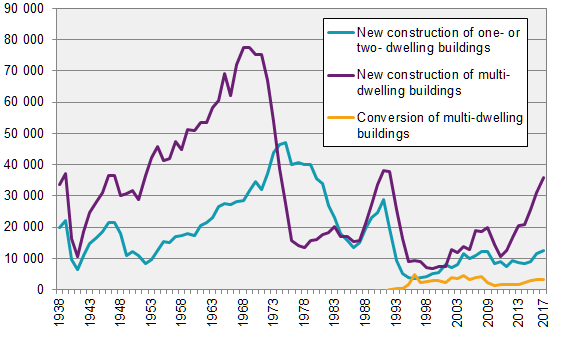 One in three new dwellings was located in Stockholm
In 15 out of 21 counties in Sweden, more dwellings were completed in 2017 than in the previous year. The highest number of dwellings were completed in Stockholm County, which accounted for almost one out of three of the completed dwellings.
Örebro County had 7.9 dwellings per 1 000 inhabitants, which was the highest number of completed dwellings per 1 000 inhabitants, Västernorrland County had fewest completed dwellings per 1 000 inhabitants, at 0.9 completed dwellings per 1 000 inhabitants. The corresponding figure for the entire country was 4.8 completed dwellings per 1 000 inhabitants.
Construction by tenure
Roughly the same number of tenant-owned and rented dwellings were completed in new construction of multi-dwelling buildings during 2017; 49 percent were rented dwellings and 51 percent were tenant-owned. However, the distribution varies in different regions. In Greater Malmö and outside the metropolitan areas most dwellings were rented, while in Greater Stockholm and Greater Göteborg most dwellings were tenant-owned. In Stockholm, as many as seven out of ten new dwellings are tenant-owned.
Completed dwellings in multi-dwelling buildings by tenure, in percent
Share of Tenant-
owned dwellings
Share of
Rented dwellings
Greater Stockholm
70
30
Greater Göteborg
59
41
Greater Malmö
41
59
Sweden excluding
metropolitan areas
37
63
Sweden
51
49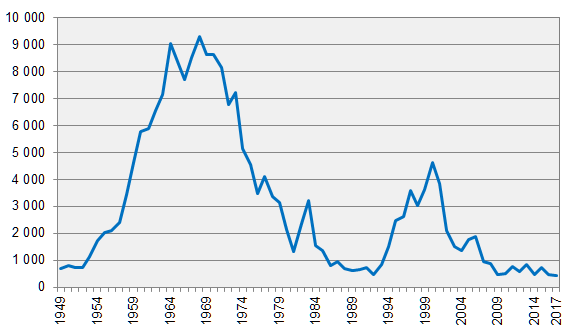 Definitions and explanations
A dwelling is a room or suite of rooms intended for private habitation.
One- or two-dwelling building means detached one- or two-dwelling buildings as well as semi-detached, row and linked buildings.
Multi-dwelling building means buildings with three or more apartments, including balcony access housing.
Conversion refers to the difference of dwellings added and removed through conversion or changes in usages of multi-dwelling buildings.
Next publishing will be
Preliminary Statistics for the first quarter 2018 will be published on 2018-05-17.
Statistical Database
More information is available in the Statistical Database
Feel free to use the facts from this statistical news but remember to state Source: Statistics Sweden.