New construction of dwellings, second quarter of 2017, preliminary figures:
Continued increase in new construction of dwellings
Statistical news from Statistics Sweden 2017-08-18 9.30
According to preliminary figures, the construction of roughly 37 600 dwellings began in the first six months of 2017. This is an increase of 22 percent compared with the same period in 2016, when the construction of 30 776 dwellings started.
Dwellings in multi-dwelling buildings provided the largest contribution to the significant increase; the construction of 30 450 dwellings started in the first six months of the year, which is an increase of 24 percent compared with same period in 2016. In one- or two-dwelling buildings, the construction of 7 150 dwellings started; this is an increase of 13 percent or 800 dwellings compared with the same period in 2016.
In addition, the conversion of multi-dwelling buildings resulted in 2 150 additional dwellings in 2017, compared with 1 988 dwellings during the same period in 2016.
The 2017 figures for new construction have been adjusted upwards by 20 percent, which is the delay in reporting for the last year. The 2017 figures for conversion have been adjusted by 36 percent.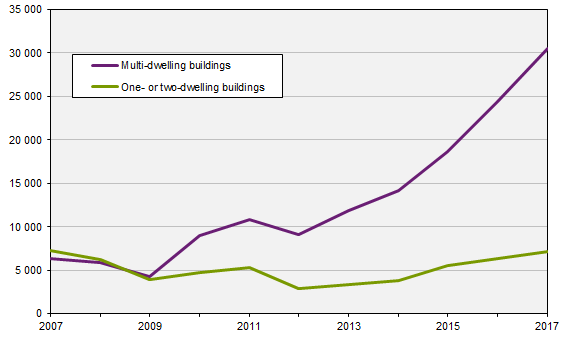 Definitions and explanations
A dwelling is a room or number of rooms intended for private habitation.
One- or two-dwelling building means detached one- or two-dwelling buildings as well as semi-detached, row and linked buildings.
Multi-dwelling building means buildings with three or more apartments, including balcony access housing.
Next publishing will be
Preliminary Statistics for the third quarter 2017 will be published 2017-11-17.
Statistical Database
More information is available in the Statistical Database
Feel free to use the facts from this statistical news but remember to state Source: Statistics Sweden.