One out of six has been infected by a computer virus
Statistical news from Statistics Sweden 2015-11-25 9.30
More than 15 percent among those aged 16-85 years, or 1.3 million persons, have been infected by a computer virus, for example a worm or trojan, during the last twelve months. A slightly higher percentage of men, 21 percent, than women, 12 percent, have been affected.
Other IT security related problems that people suffered include losing money due to online fraud, for example by Phishing or Pharming, which 5 percent have experienced. A further problem is financial loss due to fraudulent payment card use, which 2 percent of the population experienced some time during the past twelve months.
It is common to avoid providing personal information to social networks due to security concerns. Almost half of the population has avoided doing so during the last twelve months. Three in ten have avoided buying goods online or downloading software or other types of files.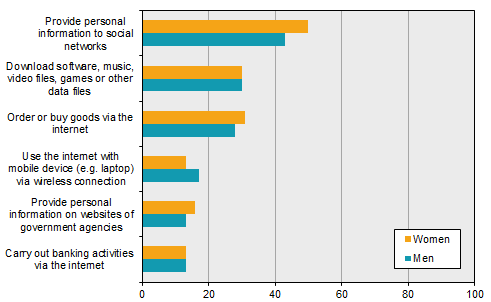 More than 50 percent, or 4.1 million persons, make back up files from their computer to an external storage device or to internet storage space.
In total, 53 percent are aware that cookies can be used to trace movements of people on the internet to make a profile of each user and service these people with tailored ads. Almost a third have changed their browser settings to prevent or limit cookies.
Definitions and explanations
A computer virus in the form of worm is a virus that spreads from computer to computer over the internet. This is often made possible by vulnerabilities in different software or operating systems. A trojan is a virus that hides in a computer program that users often think is useful. The trojan can be used to, among other things, gather user's personal data or attack other computers.
Phishing involves fraudsters who capture personal information via e-mail. Pharming involves fraudsters who redirect web traffic to fake websites in order to get the user to provide private information, for example bank account information.
Statistical Database
More information is available in the Statistical Database
Feel free to use the facts from this statistical news but remember to state Source: Statistics Sweden.