Living Conditions Survey (ULF/SILC):
Holiday travel most common among young women
Statistical news from Statistics Sweden 2016-06-23 9.30
Age is of considerable significance when it comes to holiday travel. Young women travel the most, while it is uncommon for those over age 84 to travel.
The proportion of those who took a holiday trip for at least one week during the previous 12-month period was 61 percent of the population aged 16 and older in 2015. This is only a slight increase from 58 percent in 2008, according to Statistics Sweden's Living Conditions Surveys (ULF/SILC).
Young women travel the most. 75 percent of the women aged 16–24 took a holiday trip last year. Holiday travel decreases for those older than age 74. For those aged 75-84, the proportion of those who take a holiday trip is still 30 percent among the women, but the corresponding figure for men is now 40 percent. Only 8 percent of those in the oldest age group 85 and older took a holiday trip. This is a gradual decrease from 15 percent in 2012.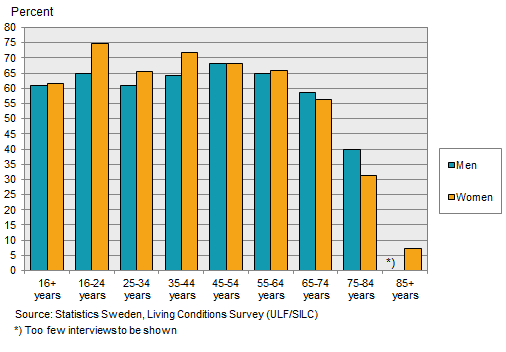 24 percent of all women and men aged 16 and older had neither taken a holiday trip nor had access to a holiday home during the previous 12-month period. Among single women with children, this figure was 26 percent while the corresponding share among cohabiting women with children was about half as high: 15 percent.
More about living conditions
The results from the Living Condition Surveys (ULF/SILC) 2014–2015 are now available on the Statistics Sweden website and in the Statistical Database. In addition to holiday travel, access to holiday homes and leisure time activities, you can find statistics on housing, finances, health, material assets, civic activities, social relations, employment, working environment and security.
Definitions and explanations
Holiday travel: The person being interviewed has answered YES to one of these two following questions:
"During the past 12 months have you taken a trip in Sweden or abroad that lasted at least one week?".
If the person answers yes to the previous question about staying in a holiday home:
"Besides being in the holiday home over the last 12 months, have you been away on holiday in Sweden or abroad for at least one week?"
Access to holiday home: persons who answered YES to the question:
"Do you own a holiday home, camper or other place to stay during holidays where you can be at least one week per year if you want?"
or answered YES to the follow-up question:
"Have you in some other way had access to holiday lodgings (where you can stay at least one week per year if you want)?
Statistical Database
More information is available in the Statistical Database
Feel free to use the facts from this statistical news but remember to state Source: Statistics Sweden.