Living Conditions Surveys (ULF/SILC) 2020
One in five unemployed persons felt lonely in 2020
Statistical news from Statistics Sweden 2021-04-21 9.30
Six percent of the population aged 16 and older felt lonely during the pandemic year 2020. The highest percentage is among the age group 85 years and older at 17 percent, and among unemployed persons at 19 percent. In the age group 60–69 years and among those in work, 3 percent felt lonely.
The 2020 Survey on Income and Living Conditions contained a question about whether the respondent had felt lonely during the last four weeks. The answers presented an age pattern that was similar for women and for men. Young adults aged 20–29 years felt lonely to a larger extent than people aged 60–69 years. Loneliness was more widespread in the older age groups. Among people aged 80 years and older, 10 percent have felt lonely "all the time" or "most of the time" during these four weeks. In a narrower age group, 85 years and older (Figure 2) this proportion increases to 17 percent, which corresponds to roughly 48 000 people.
Highest percentage of lonely people among the unemployed
The highest proportion of lonely people was noted among unemployed persons. One in five unemployed persons felt lonely most of the time or all the time during the past four weeks, and one in ten felt lonely all the time. Among employed people, the corresponding proportion was 3 percent and 1 percent respectively.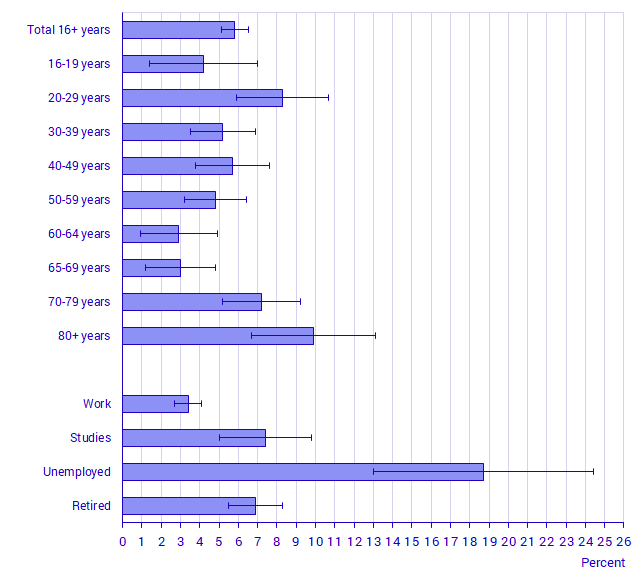 Age pattern similar to 2018
This is a new question in the latest version of the Swedish survey, which makes it difficult to assess whether the situation has changed over time. However, the same question was included in 2018 in the EU survey, EU-SILC, which Statistics Sweden takes part in and carries out. The results of that survey are similar to the Swedish survey in 2020 and do not show any major differences compared with the 2018 SILC. It is also clear that the differences between the different age groups remain the same, in which the highest levels of loneliness are found among young adults and older people.
Other results of the ULF/SILC
All results refer to the population 16 years or older, unless otherwise specified.
Among the population, 14 percent did not have a close friend. This percentage is higher among men than among women, 18 percent compared to 10 percent.
Among the population, 21 percent worried about their own economy during the next year. This percentage has increased since 2016–2017, when it was 18 percent.
Among the population, 3 percent had some time during the past year been late with payments of household bills, housing loans or rent due to economic problems. This percentage is higher in some groups, for example among unemployed persons, 13 percent have been late with bill payments.
Among the population, 19 percent would not be able to pay an unexpected expense of SEK 12 000 within one month without borrowing or asking for help. This percentage is higher in some groups, for example among unemployed persons, 64 percent lack this cash margin.
Among the population, 18 percent lived in a dwelling with more than one person per bedroom (overcrowded living conditions according to norm 3). This was more common among younger people than among older people. For example, 31 percent in the age group 20–29 years lived in overcrowded living conditions, compared with 4 percent among those aged 80 years and older.
Among the population, 39 percent had a long-term illness or health problem. Among those aged 65 years or older, this percentage is 61 percent.
Among those aged 16–74 years, 89 percent of those who work are fairly or very content with their work. This percentage was somewhat higher among self-employed persons than among employees, 96 percent compared with 88 percent.
Among employees aged 16–74 years, 21 percent works in shifts. This was more common among those who have a blue-collar occupation than among those with a white-collar occupation, 36 percent compared with 10 percent.
Among employees aged 16–74 years, 68 percent have membership in a trade union. This was more common among women than among men, 72 percent compared with 65 percent.
Statistics Sweden presents this information together with other new results from the 2020 Survey on Income and Living Conditions (ULF/SILC) on working environment, housing, economy and material assets, health, social relations, employment and safety.
Definitions and explanations
Perceived loneliness
The information in the statistics on perceived loneliness in 2020 is based on the survey answers to the following question and answer alternatives:
How often have you felt lonely during the past four weeks?
1 All the time
2 Most of the time
3 Sometimes
4 Seldom
5 Never
Main activity
Based on the respondent's answer to the question "Do you work, are unemployed, study, retired or other?"
Employment: People who have work as their main activity.
Unemployed: The respondent answered "unemployed" to the survey question above.
Statistical Database
More information is available in the Statistical Database
Feel free to use the facts from this statistical news but remember to state Source: Statistics Sweden.