Demographic analysis: Childbearing in corona times
Slight increase in childbearing among native-born women
Statistical news from Statistics Sweden 2022-04-07 8.00
After ten years of continuous decline, the fertility rates of native-born women increased slightly in 2021. In contrast, the fertility rates of foreign-born women continued to decline. The total fertility rate in Sweden in 2020 was the same as that in 2021.
A report published by Statistics Sweden describes childbearing in Sweden in the period of 2020—2021 in comparison with 2016—2019. The report presents how childbearing varied over time by women's country of birth, type of community, employment status, income as well as women's parental background. Variation by parity is also presented.
The results show that after ten years of continuous decline, the fertility rates of native-born women plateaued and even slightly increased in 2021. The total fertility rate of native-born women was 1.60 child per woman in 2020. It increased to 1.62 in 2021.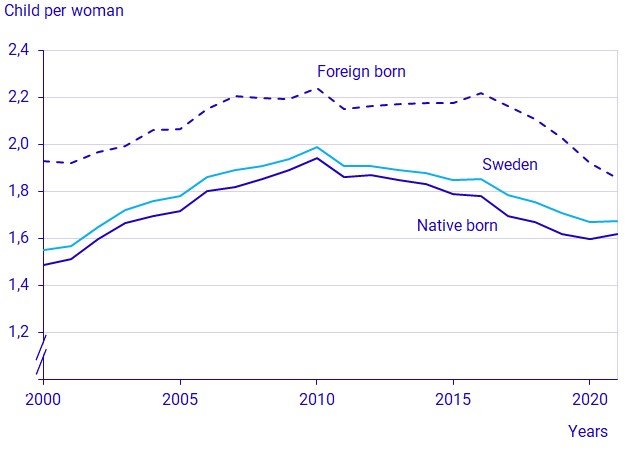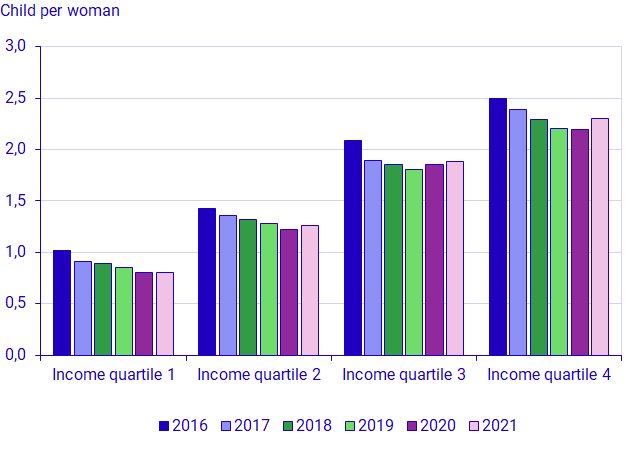 Women are equally distributed into four groups based on their income. In the first quartile are women with the lowest income and in the fourth quartile are women with the highest income.
Definitions and explanations
The fertility rate is defined as the number of children born to women of a certain age divided by the average population of women at that age.
Information on the number of women and births in the population was collected from the Total Population Register (RTB). Information on employment status and income among women was collected from the longitudinal register STATIV. In the report, the employment status and income of women the previous year is used to calculate fertility in a given year.
The income variable used in the analysis refer to all taxable income before tax, such as income from employment, income from business activities, sickness benefit, parental benefit, unemployment insurance and pension.
Publication
Feel free to use the facts from this statistical news but remember to state Source: Statistics Sweden.