Registered vehicles, November 2016
New cars increased by 0.1 percent
Statistical news from Statistics Sweden and Transport Analysis 2016-12-02 9.30
During November 2016 a total of 32 396 passenger cars were newly registered, an increase of 0.1 percent compared to November last year. This is according to Transport Analysis monthly official statistics on newly registered vehicles.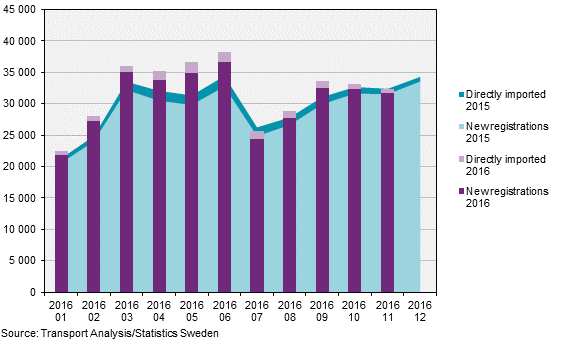 Diesel cars made up 50.8 percent of the new registrations, a decrease of 7.2 percentage points compared to November last year. Passenger cars that can be powered by electricity, ethanol or gas made up 8.6 percent of the new registrations, compared to 6.0 percent during November 2015.
61 percent of the cars were registered by businesses and organisations, of which businesses in the car retail trade accounted for 29 percent of total new registrations. Of the cars registered by private persons, men accounted for 64 percent and women for the remaining 36 percent.
Of the newly registered cars 31 810 were of model year 2014-2016 and 586 were older models. During the month 21 944 passenger cars were deregistered, which means that the total passenger car fleet increased by 10 452 vehicles.
New registrations of lorries increased by 13 percent in November. Tractors and motorcycles were the two vehicle types that increased the most compared with the same month last year.
Of passenger cars plug-in hybrid and hybrid electric had the highest increase in November 2016 compared with the same month last year.
New registration of vehicles during November 2016 broken down by type of vehicle
Type of vehicle
New registration
Changes percent
November 2015
November 2016

Passenger cars

32 378
32 392
0.1

of which petrol

11 660
13 136
12.7

of which diesel

18 781
16 472
‑12.3

of which electric

184
248
34.8

of which hybrid electric

766
1 128
47.3

of which plug-in hybrid

558
1 024
83.5

of which ethanol/ethanol flexi fuel

99
67
‑32.3

of which gas /gas flexi fuel

330
317
‑3.9

Percent of cars with MB2013

16.8
16.7

Motorhomes (subset of passenger cars)

163
186
14.1

Lorries

4 646
5 233
12.6

Busses

200
124
‑38.0

Trailers (excl. caravans)

2 692
2 944
9.4

Caravans

143
122
‑14.7

Tractors

395
624
58.0

Motorcycles

505
691
36.8

Class 1 mopeds

472
460
‑2.5

Snowmobiles

2 041
1 758
‑13.9

Terrain vehicles

487
505
3.7
Databases containing information for passenger cars on the county/municipality level and fuel for the years 2006–2016 are available in the Statistical Database.
Transport Analysis is the government agency responsible for the statistics and Statistics Sweden has produced the statistics at its request. For detailed information on new registrations, please see "Monthly vehicle statistics" available on the Transport Analysis website or Statistics Sweden's website.
The new registrations contain all vehicles during the month, that has entered into the register. These registrations differs from the new registrations in BIL Sweden:s reports. BIL Sweden's data only contains data for cars with the last three model years, as well as those that are not directly imported.
Key Facts about Transport Analysis
Transport Analysis is the government agency that analyses and evaluates Swedish transport policy and is responsible for official statistics in the field of transport. Transport Analysis also produces background data for transport policy decision-makers and promotes socioeconomically efficient and long-term sustainable transport services provision throughout Sweden.
Next publishing will be
New registrations for December will be published on the 2017-01-02 at 09:30.
Statistical Database
More information is available in the Statistical Database
Feel free to use the facts from this statistical news but remember to state Source: Statistics Sweden.