Government budget allocations for R&D 2019:
An estimated SEK 37 billion of the central state budget is allocated for R&D in 2019
Statistical news from Statistics Sweden 2019-04-11 9.30
In 2019, funds for research and development (R&D) in the central government budget is estimated at SEK 37 billion. This corresponds to 3.6 percent of total appropriations in the central government budget and 0.75 percent of GDP. This forecast means that government funding for R&D will be SEK 805 million more than in the forecast for 2018. The forecast is based on the provisional budget of 2019.
The central government budget is grouped into 27 expenditure areas. Appropriations to government agencies include funding for their R&D activities. Government agencies can carry out the R&D activities or finance R&D activities with an external provider. Education and academic research, Defence and contingency measures and Labour market and working life are the three expenditure areas in the central government budget that account for most of the increase. These are expected to increase by SEK 304 million, SEK 114 million and SEK 99 million, respectively.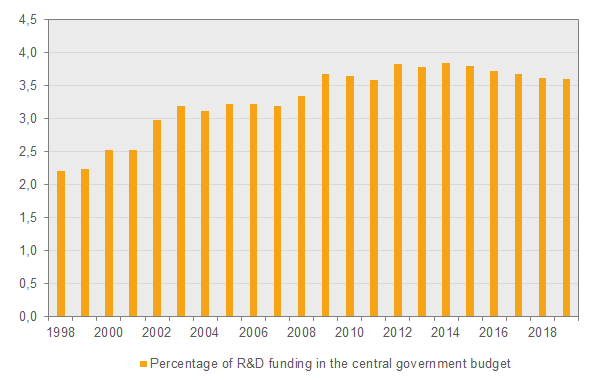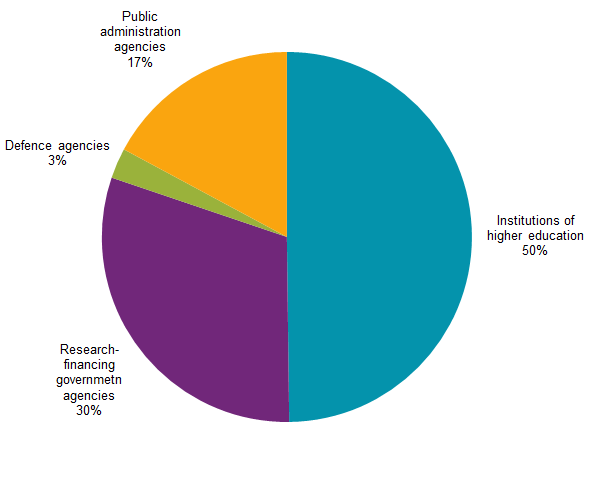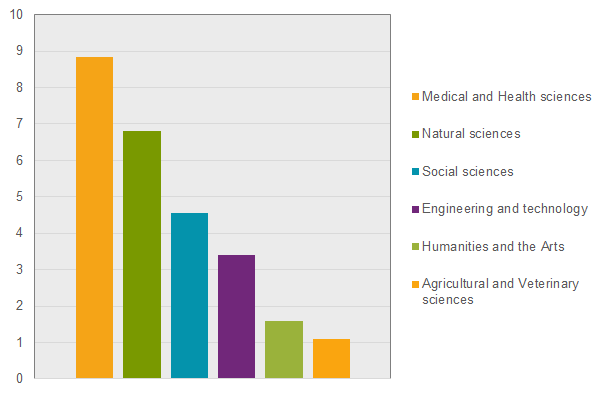 Definitions and explanations
Research and experimental development (R&D) comprise creative and systematic work undertaken in order to increase the stock of knowledge – including knowledge of humankind, culture and society – and to devise new applications of available knowledge.
For an activity to be an R&D activity, it must satisfy five core criteria. The activity must be:
Novel
Creative
Uncertain
Systematic
Transferable and/or reproducible
Facts
The forecast is based on the provisional budget of 2019.
The "Government budget allocations for R&D" survey, on which these statistics are based, highlights how much of the central government budget is used to fund R&D. Unlike regular surveys on R&D activities in various sectors of society carried out every two years, this survey provides an up-to-date forecast of central government appropriations for R&D.
The survey follows guidelines prepared by the OECD and published in the Frascati Manual – Guidelines for Collecting and Reporting Data on Research and Experimental Development (OECD, 2015). These statistics are also subject to Commission Implementing Regulation (EU) No 995/2012.
The survey results also include a forecast of R&D disbursements by public research foundations. These funds are presented separately and are not included in the report on total R&D funds in the central government budget.
Next publishing will be
The next statistical news in this series is scheduled for publishing in April 2020.
Feel free to use the facts from this statistical news but remember to state Source: Statistics Sweden.