Production of potatoes in 2017. Preliminary data:
Autumn rains hindered the potato harvest
Statistical news from Statistics Sweden and Swedish Board of Agriculture 2017-12-07 9.30
The Swedish potato production is estimated at 528 000 tonnes. This is 4 percent lower than the 2016 harvest and 3 percent lower than the last five-year average. The total harvest is at the same record low level as in 2006, 2007 and 2015.
Four counties dominate the cultivation of table potatoes: Skåne, Halland, Västra Götaland and Östergötland counties. Together, they account for 77 percent of Sweden's total table potato harvest.
Total yield in Västerbotten County was 24 percent lower than last year. Total yield in Halland County and Skåne County was 15 percent and 6 percent lower than last year, respectively. In those counties the unharvested areas are large 2017. In Östergötland County, total harvest was 21 percent higher than last year, due to increased crop area and increased yield per hectare.
The production of starch potatoes continues to increase
The main reason for the increased total harvest is an increased starch potato area. The area increased 600 by hectares, or 9 percent, compared with 2016 and amounted to 7 480 hectares 2017.
Potatoes for starch are mainly cultivated in Skåne, Blekinge and Kalmar counties. The average yield is estimated at 44 100 kilos per hectare. The total harvest is estimated at 330 000 tonnes, which is 6 percent higher than 2016. The statistics include the production of starch potato for seed.
Large unharvested areas
The unharvested areas with table potatoes in Sweden are in total estimated at 630 hectares or about 4 percent. The largest unharvested areas are reported in Halland County and Skåne County, with 230 and 160 hectares unharvested, respectively. Gotland County and Norrbotten County have 70 and 50 hectares unharvested, respectively. Many farmers have left small parts of the fields unharvested but there are also farmers who have been forced to leave large potato areas unharvested due to the autumn rains. Individual farmers have been severely affected. As regards potatoes for starch 180 hectares or 2 percent of the crop area, is estimated to be unharvested. These areas are predominantly located in Skåne and Blekinge Counties, which were affected by rain before the lifting was finished.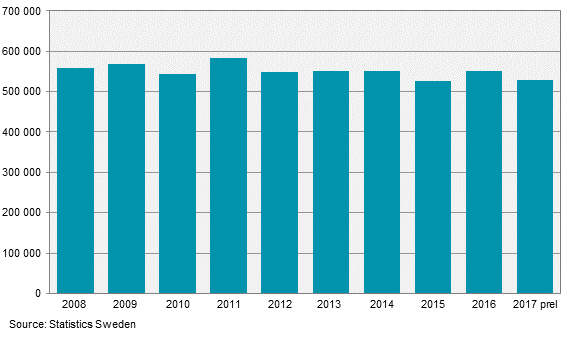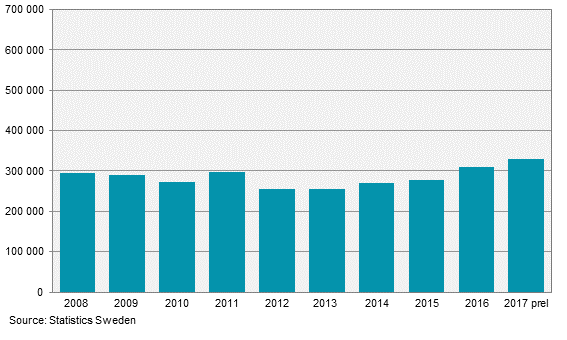 Time series with the final crop statistics are available in the statistical database of the Swedish Board of Agriculture (www.jordbruksverket.se) and Statistics Sweden's Statistical Database (www.scb.se).
Definitions and explanations
Final results for 2017 will be reported in the spring of 2018. These yield statistics are based on the data from all forms of cultivation that occur in the country. Yield statistics for organic and conventional cultivation will be reported in June 2018.
Publication
Feel free to use the facts from this statistical news but remember to state Source: Statistics Sweden.