Continuing Vocational Training Statistics 2015:
Nine out of ten enterprises arranged staff training
Statistical news from Statistics Sweden 2018-02-26 9.30
Nine out of ten enterprises arranged staff training for their employees in 2015 and courses were the most common type of training. Staff training was most common at large enterprises, compared with medium-sized and small enterprises. Just over half of the employees took part in courses. Employees devoted on average 11 hours to courses in 2015. In small enterprises, just over 50 percent of all course hours were dedicated to internal courses, compared with just over 70 percent in large enterprises. Total costs for internal and external courses accounted for, on average, 1.6 percent of total labour costs in 2015.
These statistics are presented in a report produced by Statistics Sweden, in which arrangement of and participation in staff training at enterprises was reviewed through the Continuing Vocational Training Survey.
Major differences in course participation between economic activities
There were major differences between enterprises in different economic activities with regard to the proportion of employees who participated in courses financed by the employer in 2015. In the economic activities mining and quarrying and electricity, gas, steam and air conditioning supply, a relatively high proportion of employees took part in courses, compared with those in the economic activities construction, trade and hotels and restaurants. In some economic activities, the proportion of course hours used for obligatory health and safety at work courses was high. This applied mainly in the economic activities mining and quarrying and construction, where more than 40 percent of course hours were used for this type of courses. In all surveyed economic activities, the differences in proportions between women and men participating in courses were small in 2015.
Percentage of employees who took part in courses, by economic activity and sex, 2015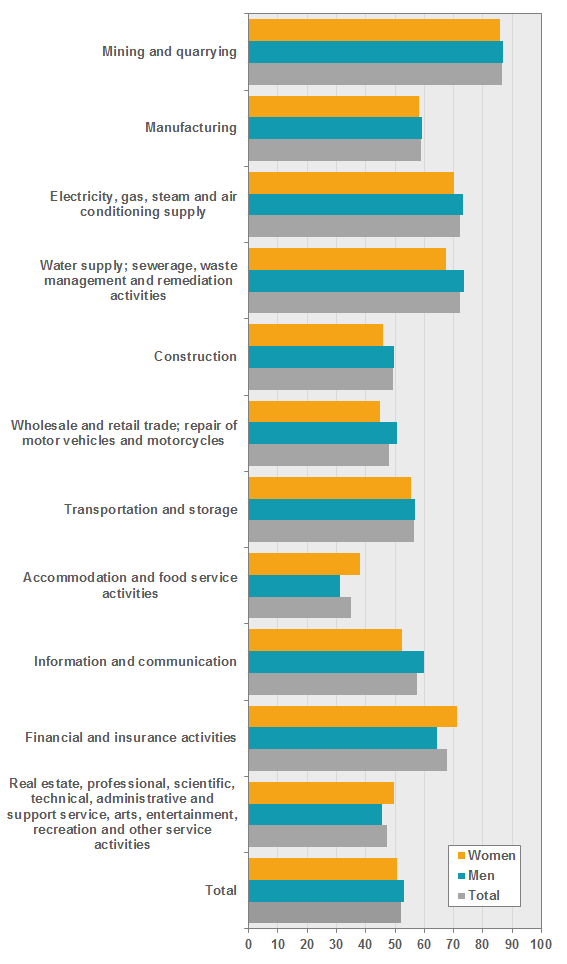 Work-related, technical or practical skills was the most common type of skills, for which most course hours were used. More than six out of ten enterprises stated this type of skills. The most common training provider of external courses was private training companies or consultants.
Definitions and explanations
The Continuing Vocational Training Survey is carried out throughout the European Union every five years since 2005. The survey concerns staff training in enterprises and the main questions were:
What are the characteristics of enterprises arranging staff training?
What are the most common skill types?
What is the extent of staff training, measured in number of course participants, course hours, and in course costs?
What kind of strategies are used for staff training in enterprises?
How common is initial vocational training in enterprises?
The survey comprises enterprises with at least 10 employees, primarily in the private sector.
Publication
Feel free to use the facts from this statistical news but remember to state Source: Statistics Sweden.