Domestic material consumption per capita per category of material, Sweden 2000–2016
Tonnes/capita per year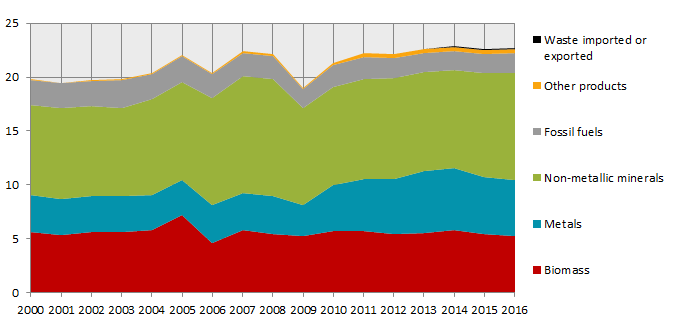 Waste according to EW-MFA definitions. Wastes from the wood industry are included in the Biomass category.
Preliminary data for non-metallic minerals in 2016.
Comments
Domestic material consumption (DMC) per capita is defined as the amount of material used by an average citizen each year. DMC is composed of the domestic extraction of materials that flow from the domestic environment within the Swedish borders into the Swedish society plus the imports minus the exports of materials crossing the Swedish borders.
DMC/capita has increased with about 14% during the period 2000-2016, from 20 tonnes/capita per year to almost 23 tonnes/capita per year. This increase has in relative terms been somewhat lower during the period than the increase in the total DMC for the whole country; this is due to the population increase in Sweden.
Population refers to mean population (the average of the population in the end and in the beginning of the year).
More about the results
Source file
Download as Excel
Source
SCB
Last updated
2017-12-12