Land use in Sweden 2010:
Sweden – one of Europe's most heavily forested countries
Statistical news from Statistics Sweden 2013-11-26 9.30
Two thirds of the land area is covered by forests, making Sweden one of Europe's most heavily forested countries. The reverse situation applies to built-up land, which in 2010 comprised less than 3 percent of the land area, or about 1.2 million hectares.
Agricultural land comprised just over 3 million hectares in 2010. The absolute majority of agricultural land was arable land while around 15 percent consisted of pastures.
Golf courses and ski slopes
There were nearly 36 000 hectares of golf courses and ski slopes in 2010, corresponding to the approximate land area of Ystad Municipality. Ski slopes are found in all counties except Gotland.
The municipality that had the largest area of golf courses in relation to the total land area was the municipality of Burlöv, where nearly 7 percent of the land area of the municipality consisted of golf courses.
More land for infrastructure than for dwellings
The largest single item in the category for built-up land was the transport infrastructure, which accounted for just over 40 percent of the built-up land. More land was thus used for roads, railways, airport and harbours than the total land that was used for dwellings. Of the total land area, roughly 1 percent was land with dwellings.
The majority of land for dwellings consisted of land with one- or two-dwelling buildings, while one about 7 percent was land for multi-dwelling buildings. Of the land for dwellings, 71 percent was for permanent dwellings and 29 percent was for holiday homes. The third largest item after infrastructure and land with dwellings is land with manufacturing industries, which accounted for roughly 58 000 hectares.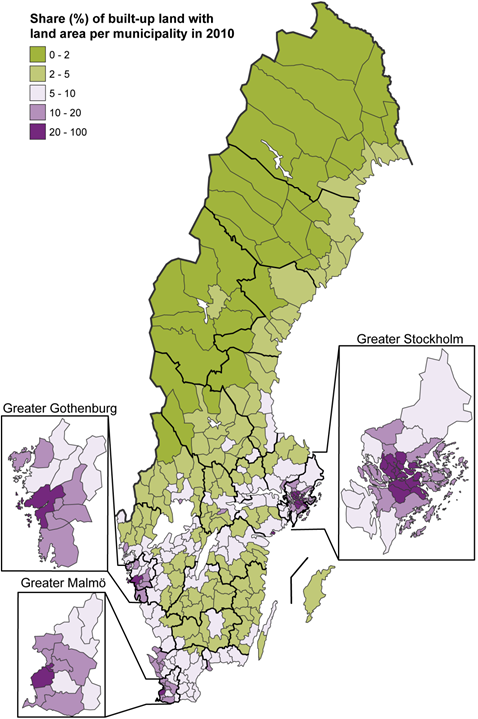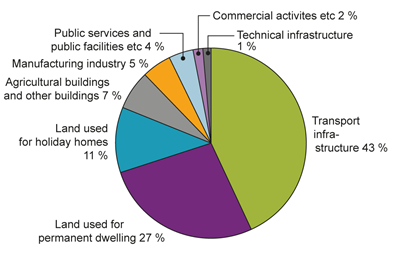 Significant regional differences
Considerable regional differences are typical for land use in Sweden. In Skåne County, nearly half the land area in 2010 consisted of agricultural land, while the corresponding figure for Norrbotten County was less than 1 percent. Of the total agricultural land area in Sweden, about 16 percent was in Skåne County, even though the county comprises less than 3 percent of the total land area of the country.
The reverse situation applies to forests, which in Skåne County amounted to 37 percent of the land area, while forested land area in Västernorrland and Gävleborg counties amounted to nearly 90 percent.
Even built-up land varies sharply among the counties; metropolitan areas generally have a high share of built-up land while the counties in Norrland have a low share. When looking at built-up land in absolute numbers however, the counties in Norrland account for significant areas due to their relative size. For instance, Norrbotten County had twice as much built-up land as Södermanland County in 2010. The extensive area comprising roads is a contributing factor to this.
New book about land use 17 December
On 17 December the book "Land use in Sweden" will be published. It will contain more statistics and in-depth analyses of land use in the country. The book also presents information about the driving forces and influential factors as well as international views on land use around the world.
Statistical Database
More information is available in the Statistical Database
Feel free to use the facts from this statistical news but remember to state Source: Statistics Sweden.