Financial accounts second quarter 2019
Households' financial wealth continued to rise
Statistical news from Statistics Sweden and Swedish Financial Supervisory Authority 2019-09-24 9.30
Households recorded strong positive financial savings in the second quarter of 2019, and for the first time households' net financial wealth exceeded SEK 10 000 billion.
In the second quarter of 2019, households' net financial wealth, that is, financial assets minus liabilities, increased to SEK 10 227 billion. In total, net wealth increased by SEK 356 billion, distributed among increases in value of SEK 253 billion and financial savings of SEK 103 billion.
The SEK 103 billion in financial savings was the highest listing in a single quarter since 1996 when the time series was launched. The main contributor to these savings was net savings of SEK 60 billion in bank accounts.
Households' financial assets are largely equity-related and are therefore affected to a large extent by stock market development. According to the Affärsvärlden general index, the Stockholm Stock Exchange rose by 4.7 percent during the quarter, which was a strong contributing factor to the increased value in households' financial assets.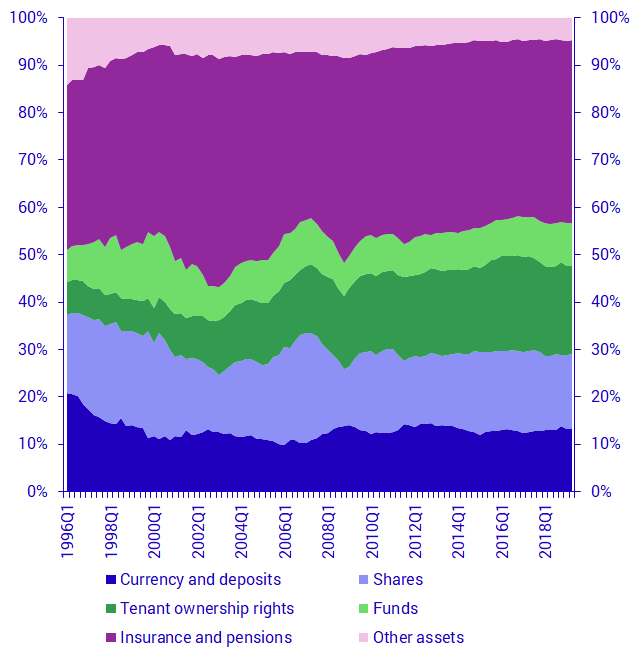 Data up to 2019Q2. Source: Statistics Sweden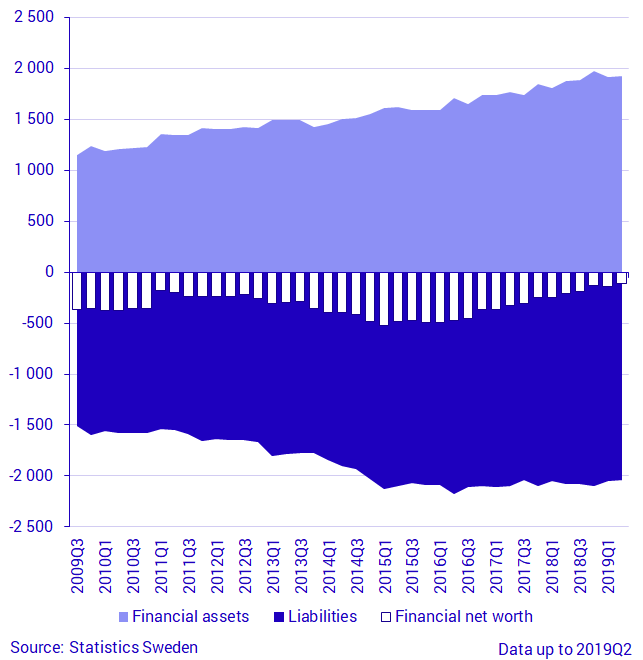 Definitions and explanations
The financial accounts aim to provide information about financial assets and liabilities, as well as about changes in savings and wealth for different economic sectors. The financial accounts' financial savings, net lending/net borrowing, are calculated as the difference between transactions in financial assets and transactions in liabilities. Net lending/net borrowing are measured as the difference between income and costs in the non-financial sector accounts, which, like the financial accounts, form part of the national accounts. However, financial accounts and non-financial sector accounts are based on different sources, which gives rise to differences.
In the Financial accounts, the national debt calculation is different from the measure of national debt most often reported, which is calculated based on the convergence criteria, also known as the Maastricht debt. In the Financial accounts, the national debt is unconsolidated and includes all financial instruments at market value. For a calculation based on the convergence criteria, nominal value is reported and only some financial instruments are included.
More information: The National Wealth
The National Wealth, which contains annual data on non-financial and financial assets, is also published in connection with the publication of the Financial accounts. Financial assets and liabilities are collected from the Financial accounts and are thereby consistent with the values published in the Financial accounts.
For further information:
Nationalförmögenheten och nationella balansräkningar (in Swedish) (pdf)
Next publishing will be
The next statistical news in this series is scheduled for publication on 2019-12-19 at 09:30.
Statistical Database
More information is available in the Statistical Database
Feel free to use the facts from this statistical news but remember to state Source: Statistics Sweden.