Securities issues, August 2019
Debt stock in long-term debt securities increased
Statistical news from Statistics Sweden 2019-09-17 9.30
Total long-term liability in debt securities amounted to SEK 6 705 billion at the end of August. This comprises 85 percent of the total outstanding Swedish debt stock, which was valued at SEK 7 901 billion.
Rising balances for long-term debt securities were recorded in both July and August, by SEK 61 billion and SEK 91 billion respectively. Securities denominated in Swedish kronor valued at SEK 18 billion and SEK 40 billion account for this increase, as well as long-term instruments denominated in foreign currency valued at SEK 43 billion and SEK 51 billion respectively. Debt securities denominated in euros accounted for the main increase in debt securities denominated in foreign currency, by SEK 36 billion in July and by SEK 34 billion in August.
Exchange rate effects increased long-term debt stock
Since the Swedish krona has weakened against the euro, the US dollar and the British pound since last month, this means that exchange rate effects have affected the long-term debt stock. Long-term debt securities denominated in foreign currency recorded an increase of just over SEK 51 billion compared with the previous month. This is due to an SEK 8 billion net increase and exchange rate effects amounting to just under SEK 44 billion.
The bank sector and the non-financial and other financial sector largely accounted for the largest increase in long-term debt securities, by SEK 30 billion and SEK 27 billion respectively compared with the previous month.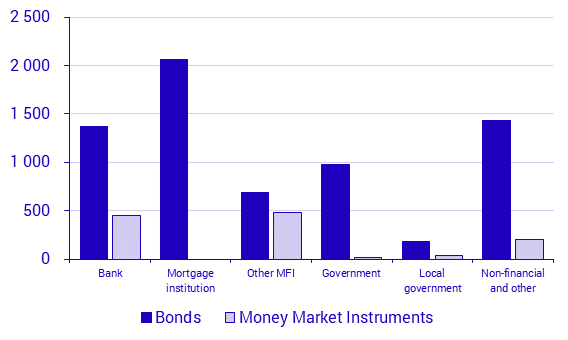 Maturity structure
During the coming year, debt securities valued at SEK 2 193 billion will reach maturity, which is 28 percent of total Swedish liability in debt securities. The bank sector and other monetary financial institutions are the main contributors to the total maturity value, by 33 percent and 28 percent respectively.
Within the bank sector, short-term debt securities account for SEK 451 billion and long-term debt securities account for SEK 264 billion. Within other monetary financial institutions, the distribution between short-term debt securities and long-term debt securities is SEK 485 billion and 120 billion respectively. It is worth noting that the housing sector recorded the largest maturity value, SEK 287 billion, among long-term debt securities in the coming year.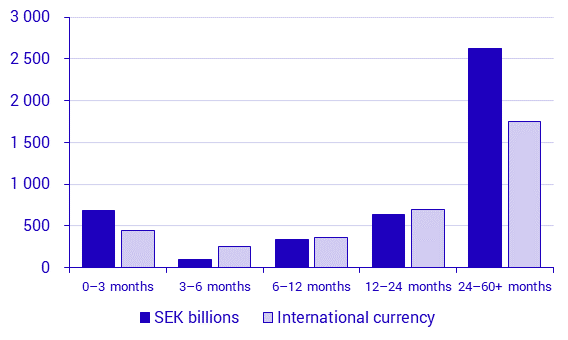 Next publishing will be
Statistical Database
More information is available in the Statistical Database
Feel free to use the facts from this statistical news but remember to state Source: Statistics Sweden.