Shareholder statistics, December 2017:
Share wealth decreased
Statistical news from Statistics Sweden and Swedish Financial Supervisory Authority 2018-03-01 9.30
Shares listed on the Swedish marketplace were valued at SEK 6 997 billion at the end of December 2017. This was a decrease of SEK 60 billion in the second half year of 2017, when the Affärsvärlden general index dropped by 1.5 percent. At the same time, the number of listed companies increased.
Share wealth, the value of listed companies on the Swedish marketplace, decreased by SEK 60 billion in the second half of 2017, and amounted to SEK 6 997 billion at the end of December. According to the Affärsvärlden general index, the Stockholm Stock Exchange fell by 1.5 percent in the second half of 2017.
Holdings in the foreign owners sector increased
Foreign investors' share of shareholdings on the Swedish marketplace increased, while households' and investment funds' shares decreased. The foreign owners sector market value of shares accounted for 41 percent of total assets, up by 1.2 percentage points since the end of June 2017. In addition to foreign companies and private individuals, this sector includes Swedes residing abroad and Swedes residing in Sweden who trade via foreign nominees. Sweden was the largest owner country, followed by the United States and the United Kingdom. The United States owns one third of the foreign owners sector's shareholdings, followed by the United Kingdom, which owns nearly one fourth.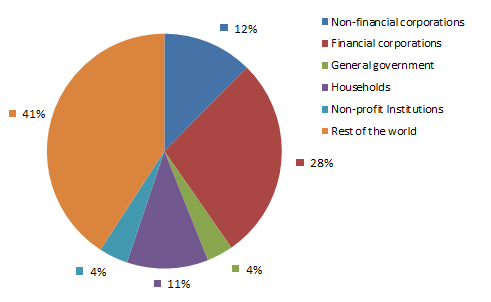 Women owned one third of the shares
The household sector's percentage of shares in companies listed on Swedish marketplaces decreased by 0.4 percentage points to 11.2 percent in the second half of 2017, and were valued at SEK 781 billion at the end of the year. Ownership continued to be unevenly distributed among the population. Women owned around one third of the shares. Older people were over-represented among both women and men. Women over 64 years owned half of women's shareholdings. Among men, the corresponding percentage was 56 percent. One in four people over 64 years was a shareholder. The bias was also clear between income groups, in which people with a combined capital income and earned income over SEK 1 million owned more than half of total shareholdings.
Definitions and explanations
Information on the final owner is not available concerning ownership in security accounts via Swedish nominees if holdings are less than 501 shares in a company, which means that these holdings are not included in a breakdown of households' income and age. Information on foreign nominees' final owners is not available, as these are not included in the public shareholders' register or register on shareholdings that are registered in security accounts. At the end of 2017, households' ownership in shares registered in security accounts amounted to 11 percent of total shareholdings.

Swedish marketplaces refer to Nasdaq/OMX Stockholm, Aktietorget, NGM and First North. Unlisted classes of shares in listed companies are also included. Shares in foreign companies that are noted on the above mentioned marketplaces have been included in the statistics from 2000 onwards.
Publication
Statistical Database
More information is available in the Statistical Database
Feel free to use the facts from this statistical news but remember to state Source: Statistics Sweden.