Households paid SEK 75 000 for housing in 2020
Statistical news from Statistics Sweden 2021-06-18 9.30
Households' median costs for housing was about SEK 75 000 in 2020. For households living in owner-occupied one- or two-dwelling buildings, the median cost was SEK 79 000, while households living in rented dwellings paid SEK 75 000 and households living in tenant-owned dwellings paid SEK 72 000.
Single person households are among the type of households that paid the least for their housing, and median costs were SEK 63 000 per year. A larger household leads to a higher housing cost. Co-habiting adults with children, for example, have a median housing cost of SEK 111 000.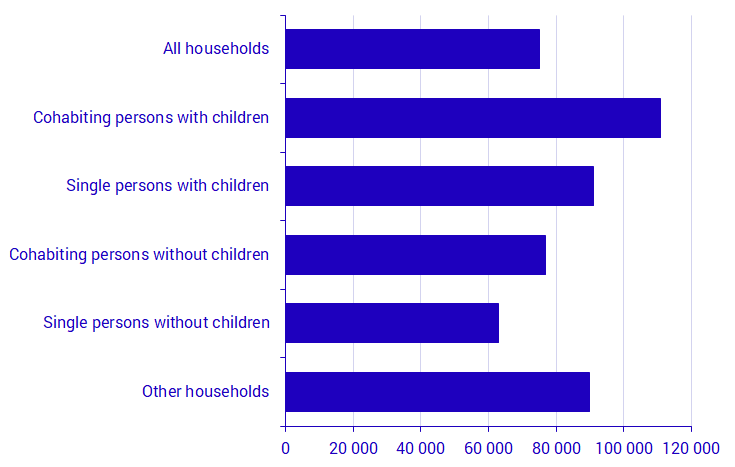 Definitions and explanations
Owner-occupied dwelling refers to a detached single family house, a semi-detached house, a terraced house or a link-attached house owned by the household.
Tenant-owned dwellings A tenant-owned dwelling is a flat located in a one- or two-dwelling house or multi-dwelling building that is owned by an owners' association, in which one is a member.
Rented dwelling: Rented dwellings refer primarily to a dwelling that is rented, in a one- or two-dwelling house or a multi-dwelling building.
Housing costs, rented dwelling: Housing costs consist of the sum of the rent and individual fees for maintenance and repairs.
Housing costs, tenant-owned dwelling: Housing costs refer to the sum of fees to the tenant-owners' society, interest fees and amortisation as well as individual fees for maintenance and repairs. These costs are adjusted with consideration to tax effects.
Housing costs, owner-occupied dwelling: Housing costs refer to interest fees, ground rent, mortgage payments, operating costs (e.g. heating, water, sewage, and waste management), and the cost of maintenance and repair, adjusted for tax effects.
Tax effects refer to a decrease or increase in tax due to tax reduction for capital losses and for maintenance and repair that related to the dwelling and the household's property tax for the dwelling. In addition, any interest on deferred capital from housing sales of a previous dwelling is included.
Households refer to housekeeping units. Housekeeping units refer to people who live in the same dwelling and have a joint economy. A housekeeping unit also includes children aged 20 years and older who are living with their parents. A housekeeping unit can consist of several generations, siblings or friends who live together and have a joint economy.
The survey is based on a random sample of individuals aged 18 years and older, and households to which the selected individuals belong.
Statistical Database
More information is available in the Statistical Database
Feel free to use the facts from this statistical news but remember to state Source: Statistics Sweden.