ICT usage in households and by individuals 2016:
E-commerce popular among individuals
Statistical news from Statistics Sweden 2016-11-24 9.30
More and more people choose to make their private purchases via the internet. This year's survey of ICT usage by individuals and households shows that 6 of 10 people made purchases via the internet in the first quarter in 2016. Clothes or sports goods were the most popular purchases via the internet, together with travel arrangements and transport tickets, and tickets for events such as the cinema or concerts.
There is a high degree of access to internet in Sweden. In total, 93 percent of the population aged 16 to 85 in the country has access to the internet at home. The most common area of use of internet among people aged 16 to 85 was sending or receiving e-mail, which 84 percent had done. Other nearly equally common areas of use included searching for information about goods and services, using internet banking and reading online news, which approximately 8 of 10 people had done. In total, 23 various areas of use of the internet were examined.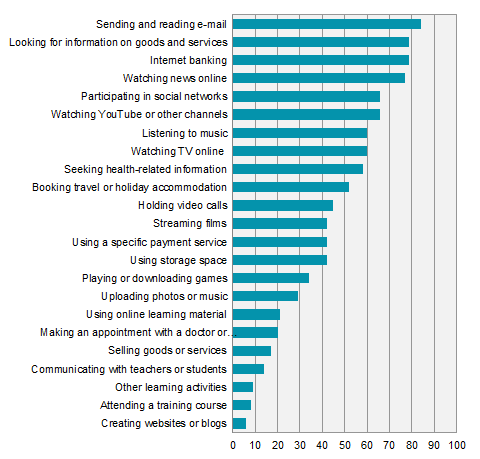 When Swedes access the internet away from home, they most often do this via a mobile phone or smart phone. In the first quarter of 2016, 71 percent of Swedes, that is, nearly 6 million people, accessed the internet in this way.
This year's survey examined internet usage via smart TV for the first time. Nearly one in four people had accessed the internet via a smart TV. More men than women accessed the internet via a smart TV; mainly men aged 35 to 44, among which 43 percent had accessed the internet in this way. Among men, the most common area of use of the smart TV was watching video on demand from commercial services and internet streamed TV such as Netflix, HBO, SVT Play.
Publication
Next publishing will be
Statistical Database
More information is available in the Statistical Database
Feel free to use the facts from this statistical news but remember to state Source: Statistics Sweden.