Balance of payments, second half of 2020
Holdings in foreign portfolio assets increased
Statistical news from Statistics Sweden 2021-09-14 9.30
Swedish holdings in foreign portfolio assets increased in the second half of 2020. At the end of 2020, total holdings amounted to SEK 6 609.7 billion, which is just over 10 percent more than at end of June 2020. Holdings in shares and funds increased, while holdings in debt securities decreased.
Portfolio assets consist of foreign shares, investment fund shares, and long-term and short-term debt securities.
Swedish holdings in shares amounted to SEK 3 791.1 billion at the end of 2020, up by 16 percent compared with the end of June 2020. Swedish investors' largest holdings are in US shares, amounting to SEK 1 758.7 billion at the end of 2020, equivalent to 46 percent of total Swedish holdings abroad. The United Kingdom accounted for the second largest holdings in foreign shares, SEK 270.2 billion, and Japan was in third place at SEK 192.2 billion in holdings.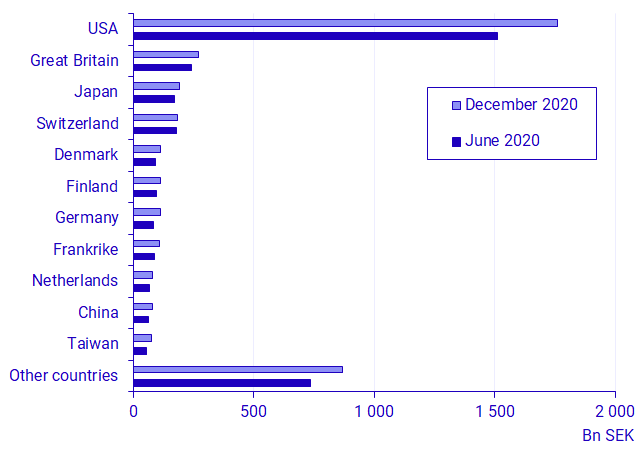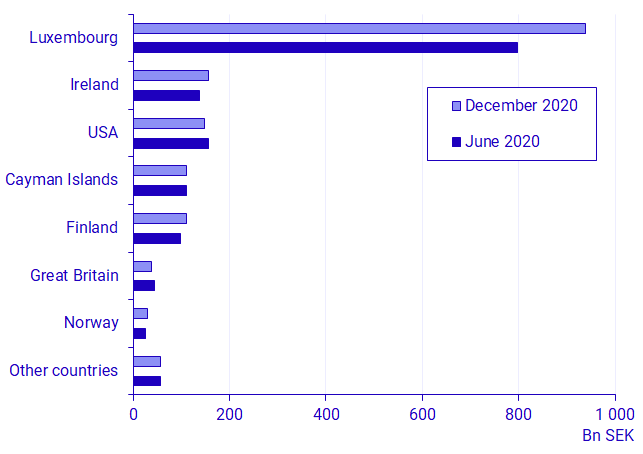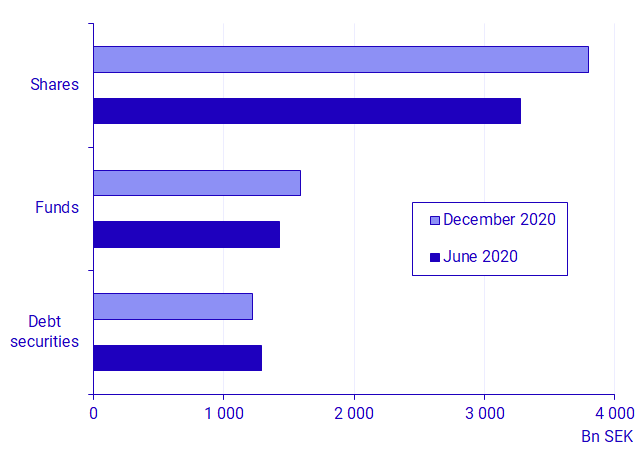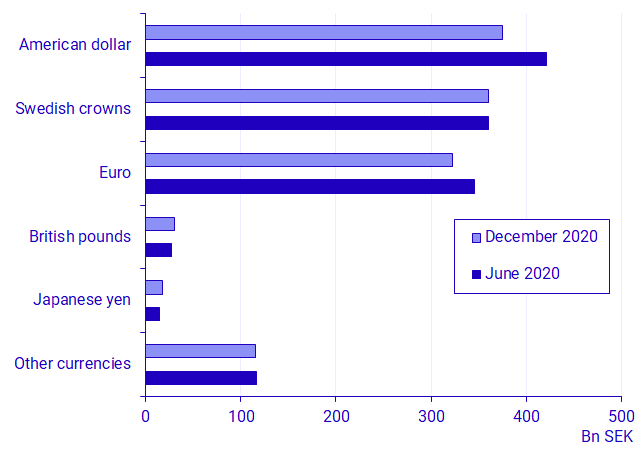 New data sources for portfolio investments
As of the publication on the first six months of 2021, the Balance of Payments will transition to new data sources for the compilation of Swedish portfolio investment abroad. This data was previously collected via a questionnaire survey, and now it will now be possible to retrieve the data directly from the database on securities holdings (VINN).
For further information, see: New data sources for statistics on securities (scb.se)
Definitions and explanations
This item of statistical news is based on the Coordinated Portfolio Investment Survey (CPIS), carried out on the initiative of the International Monetary Fund (IMF), and to which numerous countries submit results biannually. CPIS reporting includes holdings in portfolio assets with the rest of the world and forms part of the international investment position in Sweden. Sweden has taken part in this survey since 2001. Assets in the first six months of the year are measured at the end of June, and in the second half of the year, assets are measured at the end of December.
What are portfolio assets?
Trading and holdings in securities are grouped under the concept of portfolio investments, which includes shares, investment funds and debt securities. To be defined as a portfolio investment, the ownership share must be below 10 percent of the votes; if the ownership share is above 10 percent, it is defined as a direct investment.
Statistical Database
More information is available in the Statistical Database
Feel free to use the facts from this statistical news but remember to state Source: Statistics Sweden.