Different living conditions for children with Swedish and with foreign background
Statistical news from Statistics Sweden 2017-06-29 9.30
Nearly one out of four children in Sweden have foreign background. Living conditions are different for children with foreign background than for children with Swedish background. For instance, it is more common for children with foreign background to live with a single parent and in a rented dwelling.
Among Sweden's just over two million children aged below 18 years, 486 000 of them, or 23 percent, have foreign background. This is an increase from 2002, when the proportion was 14 percent.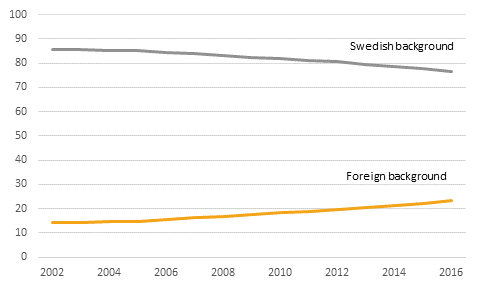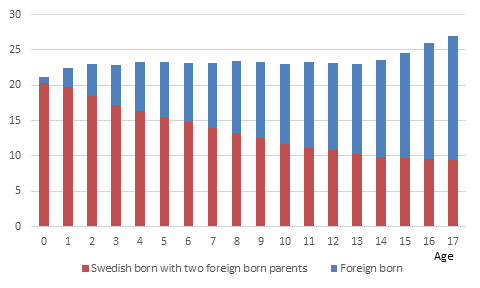 The proportion of children with foreign background varies among Sweden's municipalities. The lowest proportion is four percent in Lekeberg, in Örebro County and five percent in Hammarö, in Värmland County. Södertälje and Botkyrka, in Stockholm County, have the highest proportion of children with foreign background at 50 percent.
One in two children in Södertälje and Botkyrka have foreign background
Municipalities with the lowest and highest percentage, respectively, of children with foreign background, 2016, in percent
Lowest percentage
Highest percentage
Municipality
Percentage
Municipality
Percentage
Lekeberg
4
Botkyrka
50
Hammarö
5
Södertälje
50
Öckerö
6
Malmö
47
Söderköping
7
Burlöv
43
Kungsbacka
7
Landskrona

41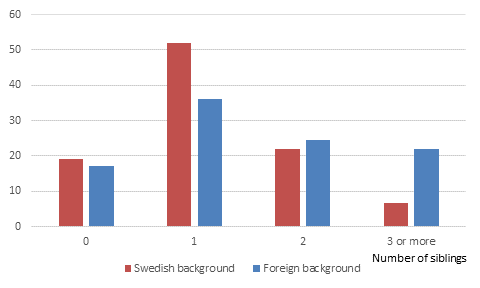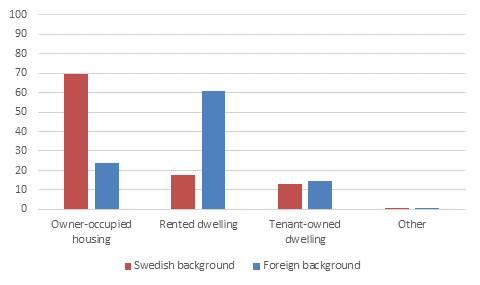 New statistics about children and families with children
The 2016 statistics on children and their families is now available in the Statistical Database. The statistics contain information on families with children, children's type of family nucleus and siblings, adopted children, separations, housing and the finances of families with children.
Definitions and explanations
The statistics refer to children aged 0–17 years registered in the population register in Sweden.
Swedish background: Swedish born children with at least one Swedish born parent.
Foreign background: foreign born children and Swedish born children with two foreign born parents.
Feel free to use the facts from this statistical news but remember to state Source: Statistics Sweden.